Contact Information:

Phone:
Ron:
(780) 387-BAND (2263)
(780) 940-9290
Debbie:
(780) 352-7251

Mail Address:
Box 38
Millet, AB
T0C 1Z0


FaceBook:
Millet Gospel Concert


Concert in The Country 2016 - Entertainers:
Victoria Street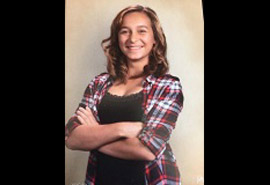 My name is Victoria Street and I am 15 years old. I have been taking singing lessons for 6 years and I have just completed my Grade Six exam and my basic rudiments.

I live on a farm with my mom, dad and my big brother Lukas, who is 15 years old. Because I live on the farm, I love going horseback riding, riding my Go cart with my brother and in the winter months I love doing my sports, sledding and spending time with family and friends. I also, in the summer months, I like helping out with mowing the grass and doing gardening with mom.

In my spare time I love playing with my 26 toed cat and our two dogs. I also participated in a musical called South Pacific this year and it was a lot of fun!!

I am really enjoying this year because I've been blessed with the opportunity of doing shows in Blackfalls, Millet, Saskatchewan and Refuge Ranch. Thank you for inviting me to this show and I hope you enjoy!!